Alternative Energy Saving Money This Summer
by Kyle Blackhurst
(Boise, Idaho)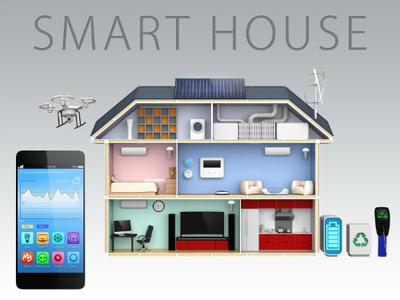 Idealised Diagram of a Smart House
Summer is already in full swing where I am from (Boise, Idaho). I recently discovered that my energy bill has been starting to increase more and more as the summer progresses. So, what can you do when you are stuck in the unfortunate position of having to watch as your bills start to climb through the roof? Fortunately, this is where living a little greener and conscientious of your energy consumption can come in hand.

I recently discovered smart meters. They are a great first step to help you move towards saving money throughout the entire year! Before smart meters, there were only regular energy meters that weren't intelligent enough to provide you with real-time data which can help you adjust your energy usage accordingly. The cool thing about owning a smart meter too is that you can use if to turn on, off, or adjust appliances, lights, etc. that you can sync to your Home Area Network (HAN) from any place on the globe as long as you can connect to the internet on your computer or phone. Also consider switching from regular incandescent light bulbs to a compact fluorescent light bulb (CFL) to save about 70% more energy compared to a incandescent bulb.

However, if you aren't looking to drop a couple hundred dollars on a smart meter for your house, you may want to opt into trying any of these next tips to help yourself save money this summer. Try to keep your blinds, doors, windows, and curtains shut to help yourself save money on your A/C bill. You may also want to try to set your thermostat as high as you possibly can to help save on your A/C costs. Fortunately and unfortunately for me, this is easy. My house only has a window A/C unit in the bedroom to help so I can sleep at night; there is no central A/C so during summer, my house can get over 90+ degrees inside (yowza!). The next thing you can do to help save yourself some money comes in your garden.

People who have electric fountains don't realize how much electricity they are going through and how much that is affecting their power bill. Switching to a solar fountain can help you to save a ton when using your fountain during the summer! Also solar lights for your garden can save you loads throughout the remainder of the summer. Lastly, try a mister to cool you down on these hot summer days!

Now, hopefully you'll have an extra tool or two in order to help you battle these hot summer days in a way that will help keep your wallet size in check. Even if you don't adopt all of these tips into your everyday life, maybe try one or two and see where that gets you bill-wise. After all, losing your money to the season of summer is no fun whatsoever!