Tidal Power News
Promising, Powerful Energy

Tidal power news in alternative energy is a relative newcomer. Although flow from tidal changes had been used centuries ago in a watermill-type apparatus, modern use has been slow. Huge amounts of renewable energy would be available.

To Google News Items on Tidal Power

La Rance Tidal Barrage In France
Le Rance, France Tidal Barrage Courtesy of Le Chant du Hibou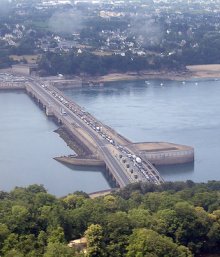 In fact a utility-sized 240MW electricity generating station barrage (or dam-like build) has been operational at Rance on the northern French coast from 1967. Having covered the cost of the build quite a few years ago, it now generates power considerably more cheaply than that for nuclear power. Although built for some time this was not the first noted tidal power news.
Earlier Trials
In 1926 three different areas were reported as setting up trials to produce electrical power from tides - in the Bay of Fundy in Nova Scotia, at Sudbury on the Severn (with its 12 metre tides, 15 metres in spring tides) in England, and at Aber-Vrach on the Brittany coast. All these areas had long narrow estuaries with high tidal flow rates.

More Recent Trials
Most tidal energy news since le Rance has been again more about trials. These lower output experiments seek to demonstrate the viability of the principle. There being some aversion to damming tidal flows, although there is a proposal to do this in the Severn estuary and the Bristol channel, nearly all these trials used some sort of turbine in the flow areas without restricting general water movements.
At Hammerfest in Norway a 300kW project has been running for a number of years.
In the USA, Verdant Power tried a number of options in New York's East River. Founded in 2000, but beginning trials in the 6mph current in 2006, initial fibreglass blades were quickly shattered. An aluminium and magnesium mix lasted a couple of months. Finally in 2008 an aluminium alloy managed to survive the stresses. Enough electricity was produced to power a supermarket's lights. Projects in Texas and Canada are at the planning stages.
Oceana in the USA, through a number of subsidaries, has access rights for tidal power generation to a number of areas in the coastal US including under San Francisco's Golden Gate bridge.
SeaGen In The UK
One of the most active companies making tidal energy news is Marine Current Turbines based in Bristol in the United Kingdom. In 2003 it built a successful 300kW turbine of Lynmouth, Devon. Its next project, still operational, was the SeaGen in Strangford Narrows in Northern Ireland. A couple of submersible turbines generate 1.2MW from a 5 knot current. Current planning is for a 10.5MW unit off the coast of the island of Anglesey in Wales.
Turbine options rely on the steady changes in the tides with a density 830 times that of air. The huge torque generated can produce significant power from blades much smaller than wind version turbines, turning at only 10 revolutions a minute. By using sacrificial anodes, either activated by a low current or the variation in materials, sea fouling can be prevented.
Swedish Idea
An alternative idea in tidal power news with a kite-type object tethered to the seabed and known as Deep Green is being developed by a Swedish company, Minesto.

Large New Zealand Venture
On March 17 2011 Crest Energy in New Zealand was given official approval to begin its development of a proposed large-scale power generating plant. Planned to produce 200MW from the tidal flows through one of the largest harbours in the world, the Kaipara.
The harbour itself is ideally situated in the north part of the north island with usable already existing reticulation and nearby populations of the far north and the country's largest metropolitan area of Auckland (1.5 million). Covering 900 square kilometres (347 square miles), with a tidal variation of 2.1 metres (7 feet) and daily water flow each way of 8,000 million cubic metres the Kaipara Harbour is an ideal formation.
The power plant, which was expected to cost NZ$600 million using open centred turbines, should have rapidly paid its way, generating enough energy for 250,000 homes. More details on the project can be checked in the combined New Zealand marine energy website.
In spite of the approval there was opposition from a number of quarters including local Maori iwi (or people) whose ancestral land included the harbour.  By November 2013 the deal had been quashed and Crest Energy no longer exists as a viable energy provider.
Although tidal power news is relatively sparse at present there is an increasing momentum building for this powerful, renewable, widely available energy source.
---
Tidal Power News
On Google

No longer able to be directly as a visual statement on the page, at least it is still possible to follow a link so you can check the latest news about tidal energy research and deployment.

By Bing
At least you can also check links through Bing's service to for another view on changes in tidal power news.

---
What Tidal Power News Do You Have From Your Part Of The World?
Do you have some interesting developments or news you are aware of in tidal power? Share it!
---
---